Why Payers Need to Prepare Networks For the End of COVID Medicaid Coverage Protections
Payers need to bolster provider networks, as hundreds of thousands of newly uninsured flock to Marketplace plans.
The COVID-19 pandemic represented a health crisis with nationwide ramifications, and one tool used to keep care accessible was a series of protections making it easier and more accessible to enroll in Medicaid, and stay enrolled. During this time, Medicaid enrollment reached new record levels — meaning years of increased enrollment for Centene, CVSHealth (Aetna), Elevance Health, Molina Healthcare and UnitedHealth Group under their Medicaid managed care plans. Solely across these "Big Five," enrollment grew from 30.1 million to 44.2 million between March 2020 and March 2023.
However, those protections officially expired at the end of March, and states have taken a staggered approach to the monumental task of 'Medicaid unwinding.' Almost all states have officially begun the process of removing people from Medicaid enrollment — the only exception being Oregon, which plans to begin the process in October.
This process has already resulted in millions of Medicaid members losing coverage, many of whom will look towards Marketplace or employer-provided plans instead. The potential strain on provider networks is tremendous, as payers must account for a substantial percentage of the millions of disenrolled.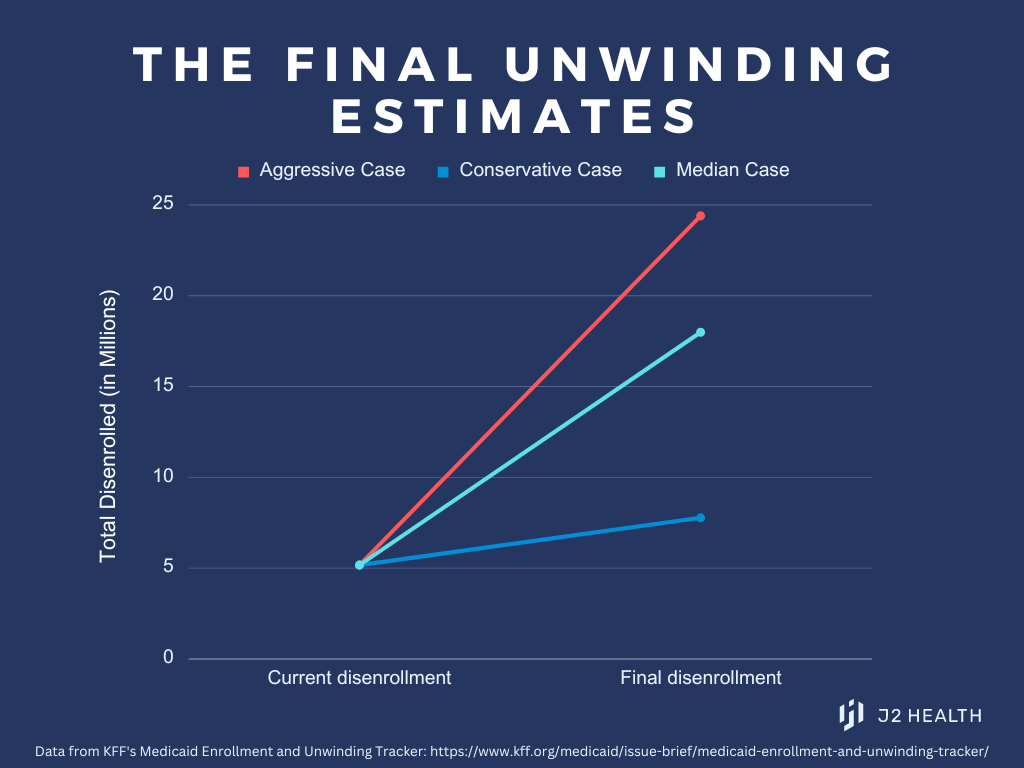 *All state-reported Medicaid disenrollments currently amount to 4,777,000 members according to KFF's Medicaid unwinding tracker, but their estimate for the final number of disenrollments ranges from a conservative 7.8 million to as many as 24.4 million members.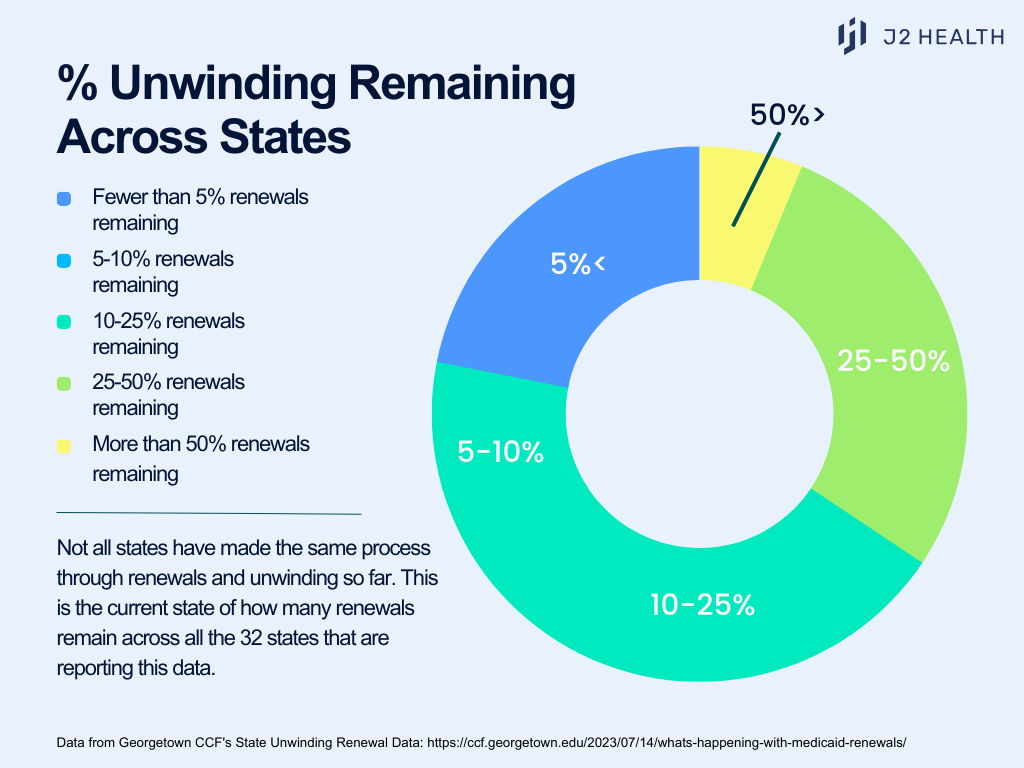 While states have 12-14 months to complete Medicaid unwinding, the renewal process is well underway in many states. That means we already have a good sense of what the unwinding looks like, although many more members will be added.
Why the narrow network trend is a new risk factor
Many new or expanding payers, have adopted a 'narrow network' strategy to make themselves competitive and cost-effective. In the best case, this means they keep up with adequacy requirements while keeping their network lean, offering only as many doctors as their members need and giving their members employers and employees the chance to opt for lower premiums while achieving great health outcomes.
However, this lean network could multiply the pitfalls of a sudden membership surge. A zip code relying on a single orthopedist may be perfectly streamlined, until the number of local patients doubles.
While larger networks may be able to absorb these changes and adapt over time, skinny networks may find themselves straining even with a small rise in memberships, depending on how adaptable they are. As their new members struggle to find care, existing members too are impacted which may impact their plan choice come Open Enrollment this fall.
Additional Pitfalls Facing Network Teams
With millions of Americans about to move from Medicaid to either employer-provided or Marketplace networks, the danger of these networks being overwhelmed looms. Already struggling to comply with tighter network adequacy standards — now without the bumpers that soft launched the new standards for PY2023 — network teams find themselves facing new challenges looking at PY2024.
Adding potentially thousands, or tens of thousands, of new members to Marketplace plans in the coming months will increase that network stress tremendously. Complications that could arise from this influx of members include:
the cost and process of contracting new providers to the network

the increased risk of non-compliance with new adequacy standards in existing service areas

threatening a plan's ability to sufficiently support membership in new geographies
Together with customer service teams, network leaders must figure out how these new members will be able to access care.
Payers must proactively work to improve their provider networks efficiently ahead of a potential surge, adapting to changing adequacy needs and requirements quickly and effectively.
Who is Most Impacted?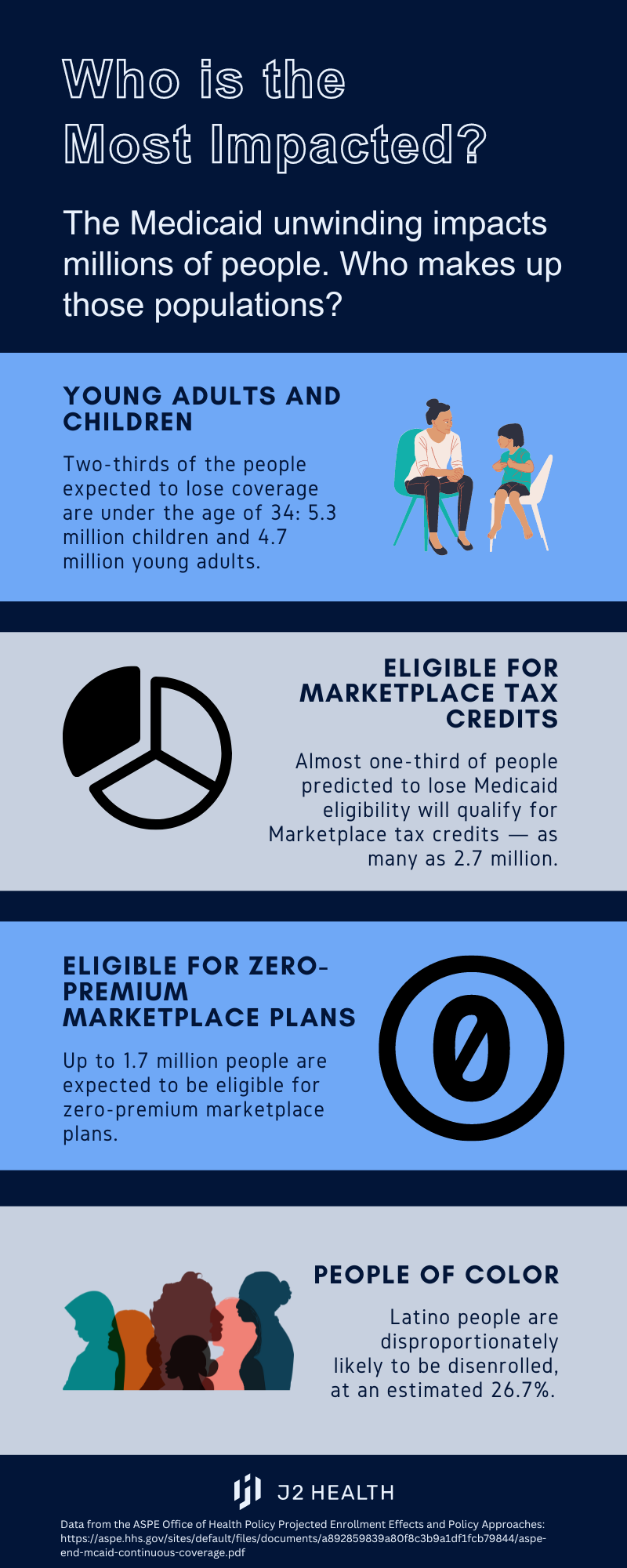 Nationwide, the people expected to have their coverage disrupted here can be described as disproportionately young, with incomes too high to qualify for Marketplace premium tax credits.
5 million people who will no longer qualify for Medicaid are expected to move to other forms of coverage, primarily employer-provided coverage.
That leaves two thirds who will be either attempting to re-enroll in Medicaid or moving to a Marketplace plan.
So far, Marketplace enrollment has been mixed. As of April, only about 68,000 disenrolled members had applied for Marketplace coverage. Of those, 84 percent were eligible, and nearly 88 percent of those people — amounting to about 51,000 — were eligible for premium subsidies. However, that number represents enrollment from four months ago, while many states have been pursuing unwinding aggressively.
In a self-reported survey, 32% of Medicaid enrollees said they would plan to look on the Marketplace if they lost coverage, while 12% said they would go directly to an insurance company. That means as many as 1.6 million former Medicaid enrollees may look to the Marketplace for their 2024 insurance coverage.
Considering how many Medicaid recipients consider the Marketplace their first option for alternative insurance, it should be top of mind for all Marketplace networks that there is a high potential of large numbers of new members in the near future.
 Impact varies heavily state by state
Unwinding has gone unevenly across states, with several key differentiating factors. Whether or not states have adopted the Medicaid expansion, whether they are using automation to process renewals, and improvements for ex parte renewals may all be part of the variance between states. That means some states are going to see much more dramatic impacts, while others see less of a change.
Marketplace plans in Texas will be hit the hardest with 58% of its previous Medicaid eligible members disenrolled, resulting in over half a million people seeking new coverage. However, other states trail not too far behind with Florida with 408,000 people seeking new coverage, shortly trailed by Arkansas with 301,000 newly disenrolled medicaid members.
Texas is a clear flashpoint for both total enrollees moving to new plans as well as enrollees as a percentage of the state's insured population. In such a case, it seems more likely that Marketplace networks and other payers in Texas may struggle to meet standards with dramatically shifting membership.
In the case of Texas, without having adopted the Medicaid expansion, those being disenrolled are largely children, young adults and new moms. Payers are likely to see these populations represented disproportionately in new membership — and could need to quickly adapt their networks in turn.
We looked at J2's proprietary provider network data and found the potential for substantial adequacy problems in meeting the needs of young families in Texas. Looking at how these gaps operate down to a zipcode level around each pertinent specialty could be key to adapting to new former Medicaid enrollees joining a network.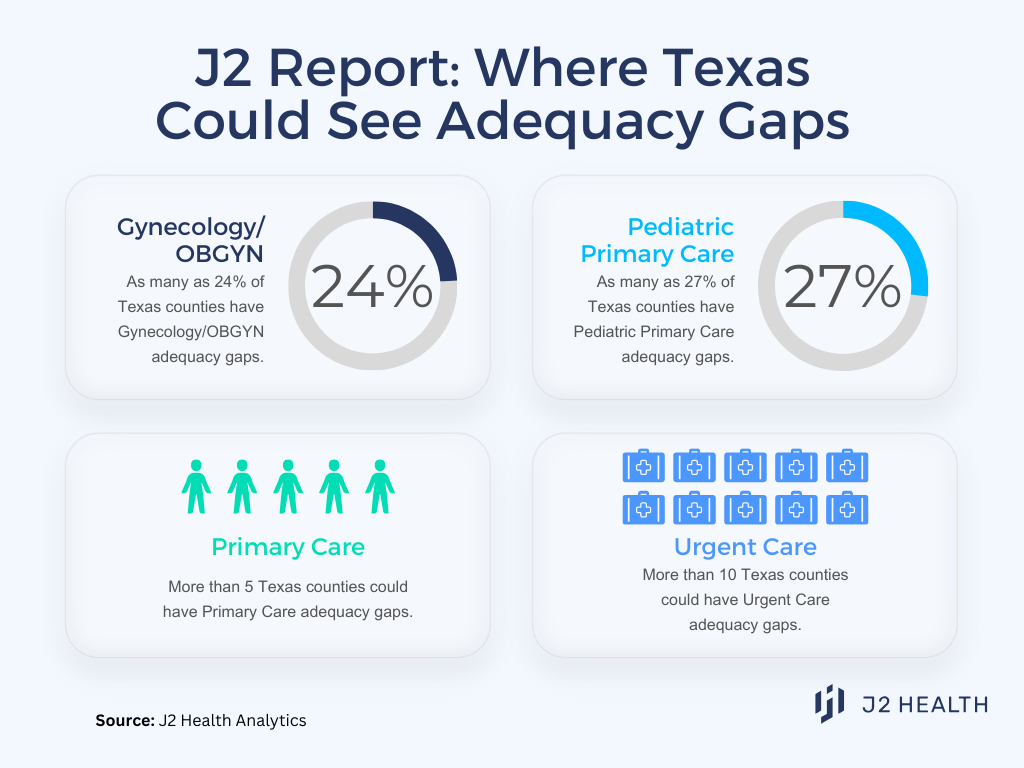 Arkansas is looking at a similar scenario — the ARKids A, ARKids B, and Newborn programs mean that children, parents and caretakers may be some of the most disenrolled groups. There is also a pattern of disenrollment particular to the Arkansas Delta, which may struggle with low population density, illiteracy and poverty. This may make it a unique struggle for payers to build networks to meet coverage requirements depending on the availability of providers.
In short, payers in states topping one or both of the above charts should be particularly concerned about the impact of unwinding — with Texas and Arkansas as two prime examples.
How insurance companies can prepare their networks
As the CMS adequacy requirements — and their new enforcement tools — continue to evolve, payers are already encountering new hurdles for PY2024. The addition of many new potential members from Medicaid disenrollment may only increase the strain payers are feeling.
Some payers have started thinking proactively about how to best reach this upswing of newly disenrolled people. As this unwinding goes on unevenly state by state, the normally-granular work of building networks will need to be approached nimbly and at scale if insurers want to reach these people. However, this is an uphill battle. Many payers are still working with provider data sources that are only 40-50% accurate, making it even more challenging to meet changing needs.
According to J2's review of 250 carriers offering QHP plans in PY2022, 80% of then-networks did not meet the adequacy requirements. With more people seeking non-Medicaid coverage, increased CMS adequacy scrutiny, and predictions of a mounting provider shortage, payers will need new approaches to meet increased compliance standards in a rapidly evolving landscape.